Application
Apply now and become part of the Hackathon 2023!
and be part of the Hackathon: Digital solutions for society – Vienna Climate Challenge. We can host the event for a maximum of 30 participants.
Please apply by 4 September 2023. We are looking forward to seeing you there!

Digital solutions for society– Vienna Climate Challenge
After organising Hackathons as part of the WTZ-Ost (Knowledge Transfer Center East), resulting in fantastic, innovative, digital solutions for current societal challenges, we continue organising Hackathons together with the City of Vienna.
Vienna aims to be climate-neutral by 2040. The Vienna Climate Guide sets out the targets for achieving this. (Find more details at: https://www.wien.gv.at/spezial/klimafahrplan/) Determination, commitment, creativity and new ideas are needed to achieve climate neutrality. And that is exactly the goal of the Hackathon Vienna Climate Challenge 2023: Within this specific framework, bottom-up innovative solutions are developed to support Vienna on its path towards climate neutrality. Be part of it and help to make Vienna climate-neutral by 2040.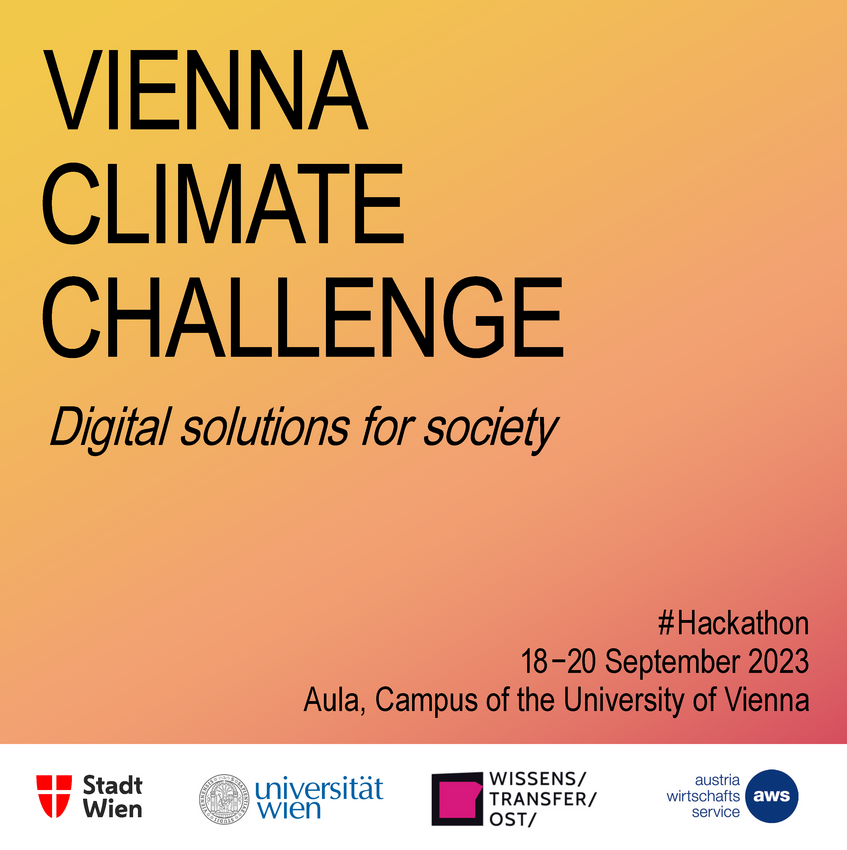 Workshop
Societal Impact of my Research: Workshop on UN Sustainable Development Goals - An Introduction
Do you want to gain some insight into the topic of the UN Sustainable Development Goals (SDGs) and be prepared to tackle societal challenges? Register for the workshop which offers an introduction to the SDGs and the know-how needed to formulate the impact of your own research and relate it to the SDGs.
Why?
Are you interested in sustainable innovations?
Do you want to work in interdisciplinary teams?
Do you want to develop ideas to improve living conditions in sustainable cities and communities?
Do you want to apply your theoretical knowledge to the development of solutions for current societal challenges?
For whom?
Students and early career researchers can either apply as individuals and be matched with others on site or can join as a team (max. four people).
Programming skills are neither required nor necessary.
What is a Hackathon?
In a nutshell, a hackathon is a challenge where people come together in a limited period of time to develop experimental, creative solutions to specific problems. Although its origins lie in software and hardware development, it can be quite flexible in terms of duration, topics, or the degree of focus on technological/digital solutions.
All-female teams
In cooperation with She.Digital Wien and DigitalCity.Wien, we would like to additionally address young women to participate in this hackathon and form all-female teams with other researchers/students, to present their ideas and innovative solutions and thus to be a role model for younger female talents! The all-female winning team of the Hackathon 2023 will receive the opportunity to present their successful idea at the #DIDAYS23.
Challenges
The Hackathon is organised by the University of Vienna, the WTZ Ost, together with the City of Vienna. Climate change imposes major challenges, especially for cities. The City of Vienna defines concrete goals and measures for the city's climate package, this is where the Hackathon wants to pick up. Interdisciplinary teams will work on concepts for (participatory) digital solutions to current challenges faced by the City of Vienna on climate. Therefore on one hand challenges were framed that lead to a very specific outcome.
Background information can be found here:
The challenges concern the climate topics: climate-friendly neighborhoods, energy, circular economy and climate-appropriate behavior.
More challenges to be announced soon. Take a look at the 2022 challenges here.
Specific Challenges
Integrated Decision-Making Tools for Mitigation Progress
Awakening the PUMA – Environmental Management Program in the City of Vienna's Municipality
Take a look at the Hackathons in 2020 and 2021, organised within the framework of WTZ Ost as well as at 2022. If you want to know more about why we are organising these kind of events, read the second issue of the REVALORISE+ e-zine.
Find a review on the Hackathon 2022 here, a blog entry by one of the 2022 participants here. You can take a look at the 2022 challenges here.
Beitrag im #Digitalmondayblog - Digital City.Wien